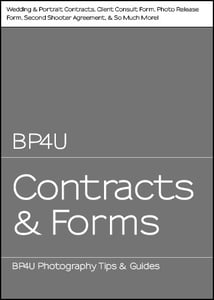 $

14.99 - On Sale
WE HAVE A NEW STORE WITH NEW PRODUCTS, CLICK HERE TO VISIT IT! So much more to see!
Ever needed a little bit of help when it comes to your photography contracts, booking contracts, client consult forms, photo release forms?
Includes the following:
Wedding Contract
Portrait Contract
Client Consult Form
Photo Release Form
Second Shooter Agreement
Album Order Form
Feedback Form
Liability Release Form
PDF/Digital version only
Note: Not all contracts/forms shown in second image
Includes the word version so you can customize the contracts.
Small Print:
I'm not a lawyer, I'm a photographer, these are the contracts we use, please have your lawyer look them over to make sure they are suited for your company or if any changes need to be made specifically for your state or region. :D
What people are saying:
Lexilu Photos: I got them and LOVE them...you put a lot of work into your quality products, this one is no exception!
Mary Morrissey: Anyone even contemplating this buy - do it! So many points in here I ( and my lawyer) had never even thought about!
Ashley N: BP4U contracts are literally GOLD! You MUST MUST MUST buy them! Saved my life! :)
... After that I moved on and got the forms and contracts! WOW what a time saver this is. This is essential for the professional photographer and I highly recommend purchasing these if you are just starting out. It is important to cover yourself and your business, release forms are a MUST! I can't wait to buy more; not just to learn from, but really its a great read! Thank you Brooke!! Please keep them coming!!! -Leigh V
"By the way, I purchased the contract pkg from you and it helped me book my first wedding. Thank you!!!" - Tom V
"I purchased your contracts & forms, which was well worth it! It really helped me formulate my own contract which I used for my first booked wedding! Thanks!!" - Jenn K Photography